Better wells start with better
Operator Training.
Online, interactive lease operator training & certification. Reduce downtime and lower LOE with Wellsite LMS.
Upskill your workforce without breaking the bank

MODERNIZE YOUR TRAINING
Field operator training
Engaging practical training modules with video and high definition visuals, and photos of your own equipment and tools.


Designed from the ground up for field operators, our easy to understand lessons teach processes, principles, and common problems actually encountered in the field.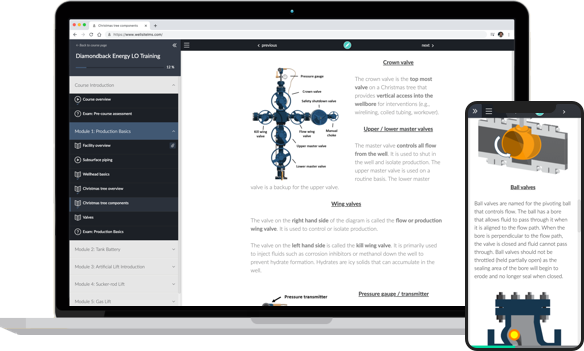 CERTIFY YOUR WORKFORCE
Testing and certification
Test comprehension of equipment and processes with customizable quizzes, and award certifications for successful tests.
Admins can track progress and certifications across their workforce for analytics and compliance.
NEVER FORGET A PROCESS
Troubleshoot in the field
Optimized for mobile to use as a real-time reference for employees on the job site.
Keep your training, reference images, and policies always up-to date so that operators have the latest information, instantly available.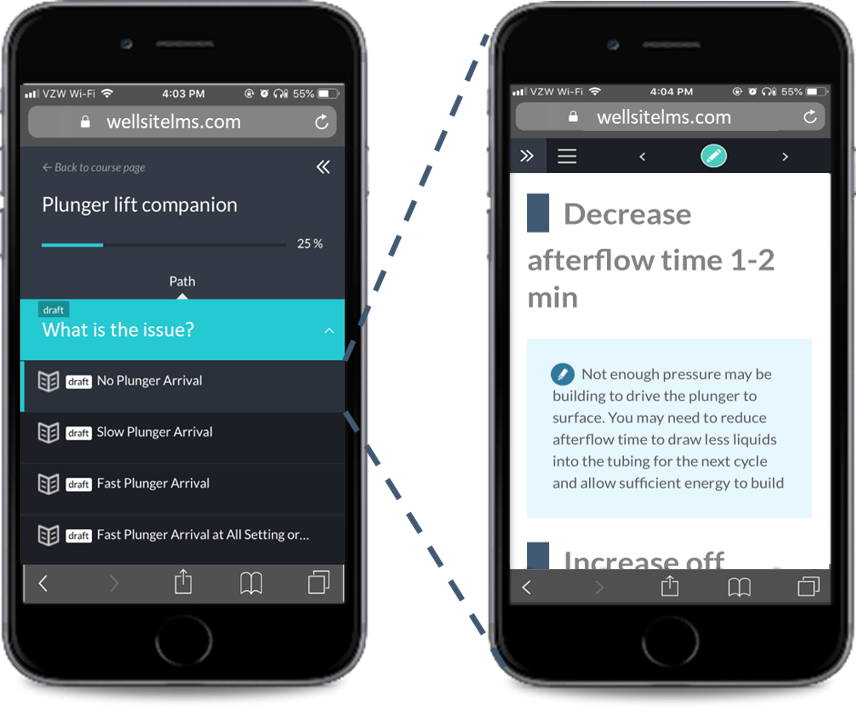 See the Wellsite difference
Designed for field results
Operators learn faster and refresh knowledge in the field more often.
Engaging videos, images & simulations
Training that's not boring
Designed for optimal learning and engagement, using best practices from leading educational institutions.
Self-paced learning and reference
Read actively, take notes
Our competency-based online program allows employees to train at their own pace, at convenient times.
Measurable administrator analytics
Easy workforce management
Track employee progress and exam scores in reports, and pair stats with operating data for richer workforce analytics.